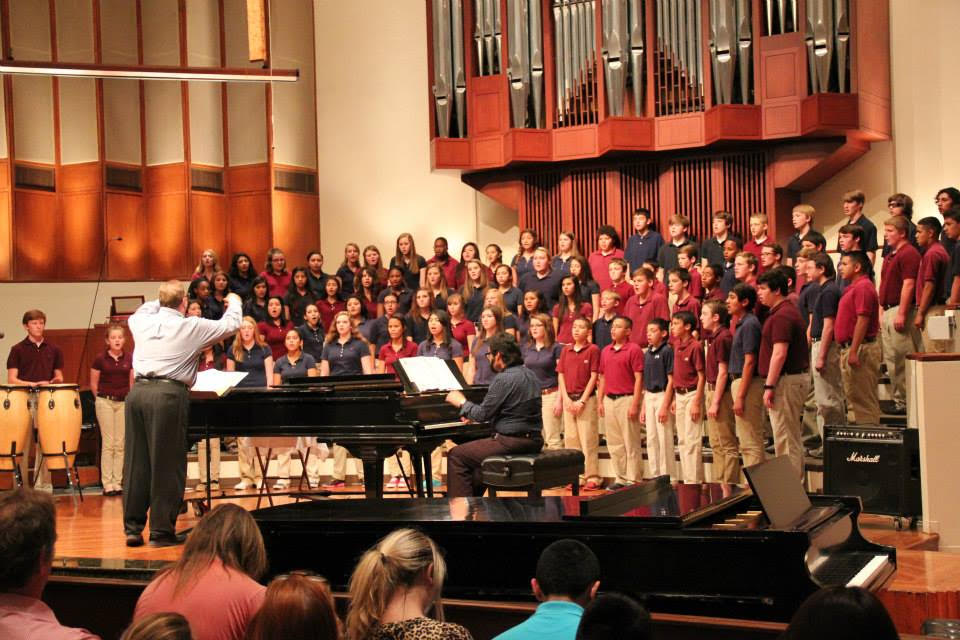 Who's Craig Griffith?
In 1982, Craig Griffith began his career as a Choir Director in Texarkana, Texas at Liberty-Eylau High School.  Craig was excited, anxious, and eager to begin his career in music education. He didn't have much of a budget to work with, so he quickly became very familiar with fundraising. Craig taught for 19 years before Century Resources entered his life.
"In 2001, while attending the Texas Music Educators Association Convention, I was introduced to Joann Pace, a Fundraising Professional from Century Resources." Joann was interested in helping Craig raise funds for his choir department at Abell Junior High. This was the beginning of a successful partnership between Craig, Joann, and Century Resources. In 2011, their continued successes lead Craig and his students at Abell Junior High to raising $19,000 for their spring trip and new uniforms.
After fundraising with Century Resources for many years, Craig was attending another TMEA Convention and stopped by to visit his friend Joann. This time Craig met Joe Bowman, Founder of Century Resources. They shared their music education history, which definitely sparked a commonality between the two. Mr. Bowman expressed his career change from directing music, to starting Century Resources to help groups raise the funds they need to be successful. Craig, on the other hand, shared how he had been successfully working with Century for many years. Craig understood the fundraising business and knew what it took for a group to have a successful fundraiser.
Teaching to Fundraising
"After teaching for 30 years I decided to retire, but I still wanted to make a difference in music education, so I took an interview with Century Resources." After being hired by Century Resources in Spring 2013, Craig would go on to shadow Joann and learn from her expertise! In Fall of 2014, Craig was officially a Fundraising Professional and was kicking off groups on his own.  Taking all the knowledge he learned from Joann and the previous experience he had as a music educator, he was built for success! "I see myself as a Music Teacher first, Fundraising Professional second." This has made Craig successful as he understands how to not only "talk the talk" when speaking with group leaders, but he also can "walk the walk".  Craig can visit groups and immediately offer his expertise with his music background but also understand the need directors require financially.
Present Day
It's 4:30 AM and Craig Griffith is in his hometown of Midland, Texas getting ready to start his day of kicking off a few hundred students for their fundraiser.  Next on his agenda is to set up his awards table, pass out brochures, and queue up the Century Resources kick-off video to get his group ready to fundraise. He sits down with the group leader to discuss the importance of utilizing the tools we offer to help the group successfully reach their goals.
The bell rings for 1st period and students begin shuffling into the classroom and excitement is at an all-time high as the students pass by the table full of awards. Their eyes widen as they see a 5 lb bag of Gummi Bears, a Mini Bluetooth projector, and a waterproof Bluetooth speaker playing music to set the tone. It's going to be a fun day!
The students take their seats and the music director hands over the reins of the classroom to Craig. He is no stranger to being in front of music groups, and he is at ease directing these students to another successful fundraiser!
This fall is Craig's 3rd year with Century Resources and what he loves most about his job is that "the people within the company treat you like family. Regardless of anyone's position in the company, I can call them and easily talk to them without hesitation." Another great feature for Craig was the calendar year is very similar to a teacher's schedule, such as summers off, winter and spring breaks still available.  Craig sees Century Resources as a partnership with groups, not a business. He has driven up to 500 miles in 1 day visiting schools, stopping in to check on the directors and groups. Craig could have retired after teaching but Century Resources gave him the option to continue being around music and helping students, two things Craig very much enjoys!
Interested in learning more about how our Fundraising Professionals like Craig can help you raise funds for your group? Click here!